Optic 2000 Group Headquarters to Reduce Carbon Emissions by 71% with Geoenergy
CLAMART, FRANCE, February 10, 2022—The Optic 2000 group and Celsius Energy are partnering to implement a shallow geothermal energy solution at the group's headquarters in Clamart. Celsius Energy will install a system that uses the Earth's energy to provide low-carbon heating in winter and sustainable cooling in summer.
The system will supply 54% of the building's heating needs and 44% of its cooling needs, thereby reducing energy consumption by 38% and cutting CO2 emissions by 71%. Work will begin in March 2022, and the project is expected to be operational by October.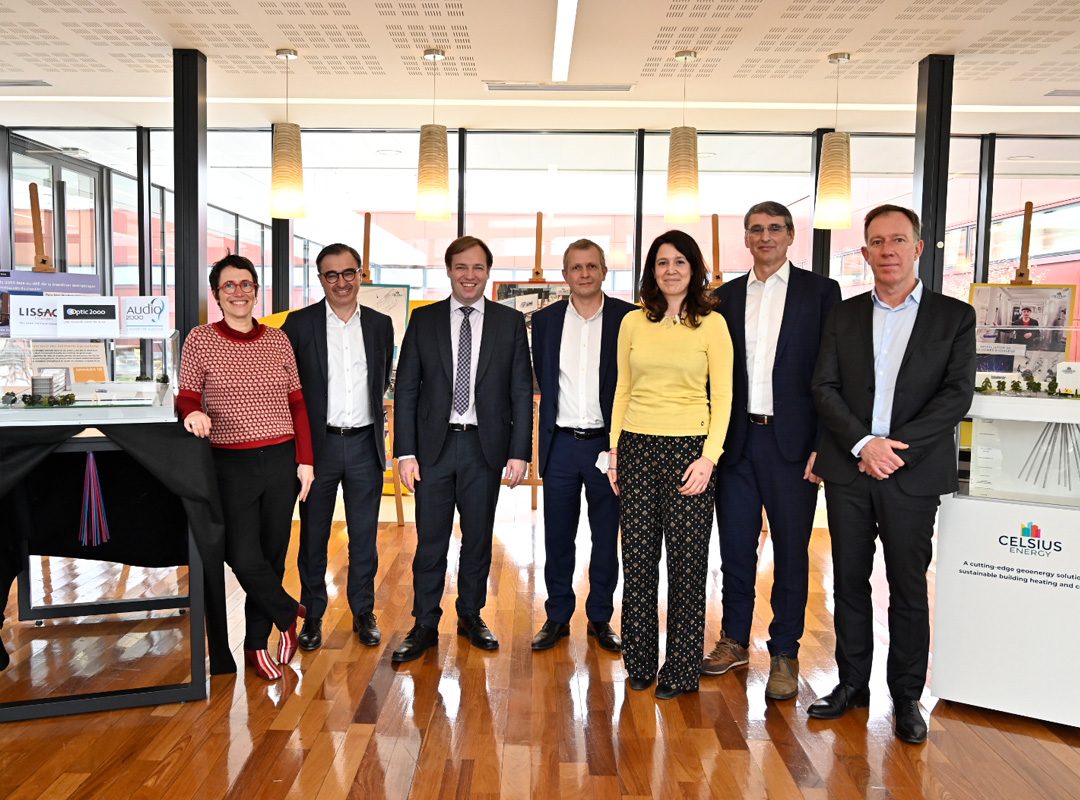 Geoenergy, Drawn from the Earth for Low-Carbon Buildings
Occupying more than 12,000 m2, the headquarters of the Optic 2000 group—which brings together the three brands Optic 2000, LISSAC, and AUDIO 2000—houses offices and an assembly shop for a workforce of 450. Currently, a conventional system comprising two gas boilers and cooling units provides heating and air-conditioning.
Geoenergy, or shallow geothermal energy, is the only continuous, local, and controllable renewable resource for heating and cooling buildings. Capturing this energy from depths of up to 200 m, the Celsius Energy solution combines a heat exchanger (on deviated probes for a small footprint), heat pump, and digital control system to optimize energy production and consumption.
Advancing the Energy Transition
Heating and cooling of buildings is responsible for 22% of CO2 emissions in France. To achieve carbon neutrality in their real-estate holdings by 2050, companies face a huge challenge.
By connecting its buildings to geoenergy, the Optic 2000 group will drastically reduce CO2 emissions as well as energy costs at its headquarters. The group is the second economic player in Clamart to choose sustainability through geoenergy, helping make Clamart a model city at the forefront of ecological transition.
The new solution combines local energy, carbon reduction, and energy efficiency—three strategic pillars of the energy transition proposed by the International Energy Agency and RTE, the French electricity transmission system operator.
A New Chapter in the Corporate Social Responsibility (CSR) Policy of Optic 2000
This ambitious project is a bold addition to the initiatives already implemented by the Optic 2000 group that demonstrate its commitment to reducing its environmental and societal impact.
The geoenergy system for year-round thermal comfort complements the group's current CSR policy, which promotes concrete actions on a daily basis. These include reducing excess packaging when shipping frames and contact lenses (a reduction of 75,000 plastic bags and 125,000 packing boxes per year since 2021), recovering display eyeglasses (more than 50 metric tons sorted, collected, and recycled since 2015), and partnering with SEA2SEE to market an eyewear collection made from plastic waste recovered from the ocean.
In addition, the company has implemented waste collection programs throughout France via its retail stores and encouraged employees to consider alternative modes of transportation by installing electric terminals in the parking lot, loaning cars and e-bikes for business trips, and implementing a mileage allowance for bicycles. Windows throughout the head office have been replaced to improve the thermal and acoustic comfort of employees while simultaneously lowering energy consumption.
About Optic 2000
The Optic 2000 group is a key player in the optical and hearing aid markets. It has 1,148 Optic 2000 stores, 233 LISSAC stores, and 210 AUDIO 2000 centers, with sales of €797 million, €111 million, and €38 million, respectively, including tax. The brands respond to the needs of a constantly evolving society and focus on innovation to improve visual and auditory comfort for all.
About Celsius Energy
Founded in 2019, Celsius Energy is a startup of Schlumberger. A recipient of the Solar Impulse Efficient Solution label, its shallow geothermal energy system has also been recognized by the UN as one of the 50 most promising solutions for the future of climate worldwide. Its geoenergy system is among the "1000+ clean and profitable solutions" identified by the Solar Impulse Foundation and one of the 50 most promising solutions recognized by the UN for mitigating climate change. Its pilot installation can be seen from its main building in Clamart, France.
Celsius Energy at "1000+ Solutions for Cities"
On January 14, the Solar Impulse Foundation in partnership with Schneider Electric inaugurated the "1000+ Solutions for Cities" exhibition. The mayor of Grenoble was also present at the event, where Schlumberger was represented by Chairman France and Director Schlumberger New Energy Europe Olivier Peyret, and Celsius Energy CEO & Co-founder Cindy Demichel. ​​​​​​​
Open to the public from January 17 to April 1, the exhibition is located in Schneider Electric's new R&D campus—IntenCity—which claims the distinction of being one of the most sustainable buildings in the world.
The opening of the event was live-streamed on LinkedIn by Schneider, when Cindy Demichel explained the Celsius Energy solution to the Schneider Electric CEO and Solar Impulse Chairman and Founder at the inauguration.
[insert vidéo here]
https://www.linkedin.com/video/event/urn:li:ugcPost:6887392888758652928/
Celebrating proven solutions for reducing environmental impact
The exhibition explains the challenges related to decarbonization of cities and showcases 26 solutions that are already available for deployment. It comprises six themes: Buildings, Infrastructure, Consumption & Production, Waste & Recycling, Mobility, and Grid & Energy.

"Cities are responsible for 75% of our global greenhouse gas emissions; this is shocking but encouraging at the same time," commented Solar Impulse Foundation Chairman and Founder Bertrand Piccard. "If most of our problems are concentrated in cities, so are the solutions. If we manage to decarbonize cities, reduce their energy consumption, and minimize their waste, we are already making huge strides in the fight against climate change."  
Other Solar Impulse solutions presented alongside Celsius Energy in the Buildings section are Gramitherm, CoolRoof, ReWood, Harmony Wireless Battery-Less Interface, Wind Tulips, SOPRA XPS, SageGlass, and 3D Printing Construction. 
Celsius Energy's ready-to-implement solution
Buildings are among the biggest contributors to climate change. Efficient solutions exist for construction materials, space and water heating with renewable energy, and optimization of energy and fuel consumption for lighting, air conditioning, and other services. Celsius Energy's solution uses clean geoenergy for heating and cooling buildings, reducing emissions and energy consumption. 
"We are happy to be one of the few solutions selected for this exhibition in the Buildings theme. And it is a real honor for us to be able to present our geoenergy solution among like-minded innovators ready to make a difference in reducing the environmental impact of cities," says Celsius Energy CEO & Co-founder Cindy Demichel. "As we expand our operations in France, Europe, and internationally, the opportunity to present our solution to a large and enthusiastic audience is welcome."
In the exhibition, a model of Celsius Energy's Clamart demonstrator, which has been in operation for a year on the Schlumberger campus, shows the installation of the solution. Multimedia exhibits enable visitors to discover more. 
Part of a large ecosystem             
The Solar Impulse Foundation's mission is to accelerate the energy transition through clean, efficient, and profitable technological solutions. Grenoble's designation as European Green Capital 2022 makes it eminently suitable for this exhibition. The European Commission's "Green cities—fit for life" initiative aims to encourage sustainability in European cities of more than 100,000 inhabitants. ​​​​​​​
"With Celsius Energy, Schlumberger marks its presence in the exhibition, which places technology at the heart of solutions for the city of tomorrow. The tomorrow that can be a reality today with these clean and efficient solutions fully operational in many places. The 18 "Made in France" solutions of the 26 selected for this exhibition showcase the incredible strength of our ecosystem in France, which allows us to develop partnerships between startups, major research organizations, and industry. This ecosystem fosters and accelerates innovations for decarbonization and the energy transition," notes Chairman France and Director Schlumberger New Energy Europe Olivier Peyret. "The participation of Schlumberger as an important player in this ecosystem demonstrates the success of a dynamic collaboration with regional partners over the years, seeding a future of even greater opportunities."
Each year since 2006, the European Green Capital award has rewarded and promoted a city that has distinguished itself by its proactive and concrete actions in favor of the environment and its inhabitants' quality of life.
Visit the Exhibition
If you are passing through Grenoble in the coming months, take the time to visit the exhibition for an immersive and interactive experience! 
The exhibition runs every day from January 17 to April 1. 
Three slots are available each day, at 4:30 p.m., 5:30 p.m., and 6:30 p.m., for visits of 20- to 45-min duration.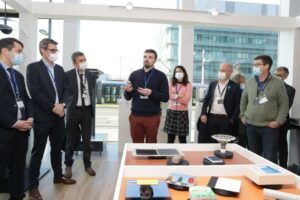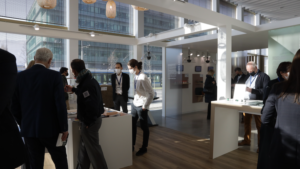 Matali Crasset | Project Yourself Into the City of Tomorrow
Geoenergy: The Solution to Low-Carbon Buildings
A Renovated Building Powered by Geoenergy
Celsius Energy Delivers 60% Reduction in Energy Consumption
Bloomberg and the United Nations have chosen Celsius to be one of the 50 Climate Leaders: "Climate change is the challenge that defines our time. We know it is impacting our planet, we know what we need to do, and we have the tools to make it work. Huge economic and societal benefits await humanity if we rise to the challenge of climate change. "
6 Reasons to Choose Geoenergy
A Geoenergy Solution Providing Low-Carbon Heating and Cooling for Buildings
Celsius Energy Completes First Installation of Innovative Building Heating and Cooling Low-Carbon Solution
"This is why I love your Celsius project!" Bertrand Piccard @ Station F (ST EN)